Take a Gander Friday: Alicia Bock
The reason I started this blog in the first place was because I became overwhelmed by the beautiful things, places and awesome talent I had been encountering in recent months. I started collecting bits of beautiful things and began to realize that I had an obsession on my hands. My finances could not handle such beauty so I decided I needed to share my findings. I love sharing these things with people and peering into the blogs that celebrate their own definition of stunning.

Now I am going to take this one step further. Fridays are going to be dedicated to people/artists who make our world a little bit prettier. The first spinner of all lovely things I am choosing to celebrate is Alicia Bock. I choose her because she was the first artist that really captured my attention. I found her the first time I logged onto etsy and was immediately hooked. I must have stared at her breathtaking photos for at least an hour that first day. Her photos simply make me happy. She became my first etsy purchase and my tumble down the slippery slope began. I feel privileged to have found this amazing artist, and will continue to decorate my unworthy walls with her breathtaking art.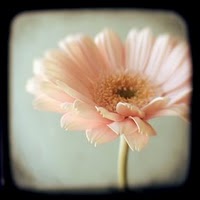 She also has a blog. She takes some of the most beautiful photos I have ever seen, she writes, and she seems incredibly nice....some gals have all the luck.