Finn Juhl
I am far from a student of design. I just know what I like. Until recently, I guess I would have considered myself drawn to more traditional pieces and would have chosen to live in a 1920's bungalow (and actually have since we became homeowners about 8 years ago). But lately, due to a new project (more about that later) I have been loving Mid-Century pieces. I am not a full convert at this point, but would absolutely love to incorporate more of these pieces into my home.
I have been seeing images like these for quite some time and found myself going back to them over and over.
These pieces were all designed by Finn
Juhl
. I love them so much. I love the sleek curves and strong
wood presence. I won't pretend to know anything else. Like I said "I know what I like when I see it." I like this. This
amazing blog
recently posted
phot
os
of Mr.
Juhl's
home in Denmark. Take a peek...so wonderful: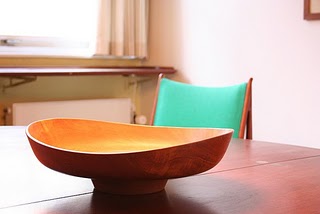 I have now decided that the only thing b
etter than Mid-Century Modern is
Scandinavian
Mid-Century style and
the more I look at these the more I say forget a few pieces
here and there, I am willing to pack up the French-mobile and move right
into Finn's home. I wonder if it is a big deal attaining citizenship in Denmark?
**We are heading off to Cannon Beach today. We will be there until Sunday. I am not sure what type of access I will have to a computer and my beloved blog; just know I am not a slacker...actually sort of a slacker but for good reason.